9 self-care strategies for remote workers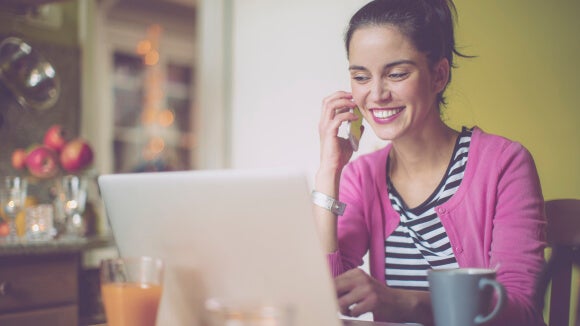 The workplace overhaul inflicted by COVID-19 has plunged some of us into working from home for the foreseeable future.
Adapting to 'the new normal' has left many people vulnerable to the effects of social distancing, on top of any financial pressures, health scares or employment uncertainty we may be feeling due to the crisis.
It's a frightening and isolating situation for us all, so it's more important than ever to find new ways to work and interact with our colleagues and networks, whilst ensuring we're prioritising our mental health and wellbeing. In our Mental Health and the Remote Workplace series, we explore practical steps to protect your mental health and wellbeing.
Create your home office
Are you missing the structure that office working provides? Creating an organised and tidy working space, whether that's in a dedicated room or within an open-plan area, could help you to separate work from home and maintaining a productive and motivated mindset.
Whilst it's tempting to work from the comfort of the couch, a designated workspace means fewer distractions, as well as a degree of separation between your work and personal life. It's important that you can log off at the end of the day without feeling obliged to work after hours, so try to only associate work with your designated 'work zone'.
Maintain a sense of routine
To help to keep a sense of 'normalcy' during this time, try and mirror your normal work routine as much as possible. From setting your alarm, getting dressed for work and arriving at your desk, maintaining your everyday work rituals will help you to structure your day more effectively.
Remote working offers more flexibility over working hours, but it can make us all prone to burnout if we don't give our brains time to rest as the afternoon spills into the evening. It can be tempting to work more at home to progress your work, however it can also be taxing on your health and wellbeing, so stick to a schedule with healthy boundaries and reasonable working hours.
Managing your mental wellness is just as important after work as it is during working hours. So, once you log off, make sure you fully unplug by setting your work emails to 'do not disturb' and use this time to speak with friends and family, unwind, or find escape in a boxset or online exercise class.
Communicate creatively
For some people who thrive on the social interaction of the office, working from home can hold unexpected drawbacks. It's easy to feel lonely or isolated when you're deprived of the face-to-face conversations with your team, but there are communication tools you can leverage to maintain those connections, from group chats, videoconferences and virtual team socials. Although most conversations will be about work, use this time to check-in with colleagues, who are most likely, going through the same emotions during this time.
While a work-life overhaul undoubtedly generates uncertainty, it also makes space for compromise and opportunity.
Communication is key, but it shouldn't stifle you. If you're in a shared household with kids, a spouse or flatmates, there will be times when you will crave some privacy. When you need time alone to think or recharge, endeavour to fit some personal time into your schedule.
Limit your news intake
Being exposed to large volumes of negative information can heighten feelings of anxiety. Minimise watching, reading or listening to news about COVID-19 that causes you to feel anxious or distressed.
The near-constant stream of news reports about an outbreak can cause anyone to feel worried. So when you do seek out information, do this at set times during the day and focus on getting the facts from trusted sources such as WHO and local authority platforms; not rumours and misinformation that can spread across social media.
Maintain your physical health
Your mental and physical health are intrinsically linked, so it's important to give both the same deserved attention. It can be easy to stay hunched over your laptop all day, but schedule in regular breaks to get up and move around, whether that be a power walk, stretching, planks, tidying up, whatever works best for you to reduce or alleviate stress and increase endorphins. While our favourite gyms and fitness centres are closed during this time, many are offering free livestreams or app-based workouts for members and the general public, so check online to see what's available.
It's no secret that sleep plays an important role in good physical and mental health. Sleep deprivation can leave you feeling irritable and exhausted in the short-term, but it can also have serious long-term health consequences as well. Lack of sleep is linked to a number of unfavourable health consequences including heart disease, type 2 diabetes, and depression, so maintain healthy sleep patterns while working remotely by scheduling 'bedtime' into your routines.
When you're working, pay attention to how your energy ebbs and flows throughout the day and try to schedule the best tasks to your energy level accordingly.
Take regular breaks
Just like any working environment, giving yourself breaks is incredibly important to let your brain and body relax. Take a 15-minute walk, go make some lunch or catch up with a loved one on the phone—whatever you do, do not work yourself to the bone without letting yourself take a break away from screens, meetings and work. It's widely acknowledged that breaks can actually significantly improve productivity levels and a person's ability to focus.
Engage with your employer's support tools
This is a challenging time for all of us – and whether we are at work or not, many employers provide support in varied guises. Many business offer Employee Assistance Programmes and a range of wider benefits to support physical and mental wellbeing. People's mental health needs can differ vastly, so it's about being aware what's offered and taking advantage of the support tools when you need them. Many have dedicated apps and websites and they are not just about counselling.
Discover compromise and opportunity
Despite doing our best to protect our mental wellbeing, it's important to accept that we will all likely undergo a degree of distress and anxiety in the short and medium term. Whilst it's a challenging time, it can be a time to think differently how we navigate our work and personal life, for example doing exercise workouts from videos instead of attending fitness classes, looking at mindfulness practice using apps such as Headspace and Calm, or finding ways to help others in your community. While a work-life overhaul undoubtedly generates uncertainty, it also makes space for compromise and opportunity.
More information
Check out our other career advice tips for more insights on managing your career effectively.