How to attract and retain the right talent to grow your business internationally
Asian companies are growing in international status and changing the global business landscape. However, companies that are used only to operating within Asia often struggle when working to expand across borders, specifically with regards to recruiting and retaining the global talent they need to grow their international footprint and keep one step ahead of the competition.
Our latest whitepaper, How to attract and retain the right talent to grow your business internationally - a guide for Asian companies identifies and analyses the human resources challenges faced by Asian companies looking to grow internationally. We also hear from international talent about their experiences and opinions on working for Asian businesses, and recommend measures employers can take to optimise their ability to attract and retain the best people.
Based on a survey gathering the views of more than 5,000 HR professionals, hiring managers and candidates working in Asian and Western companies across Mainland China, Indonesia, Malaysia, Philippines, Singapore, Thailand, Taiwan and Vietnam, this whitepaper serves as a blueprint to help Asian companies equip their businesses to find the talent they need.
Download the full whitepaper by filling in the form or contact us to find out more about attracting international talent.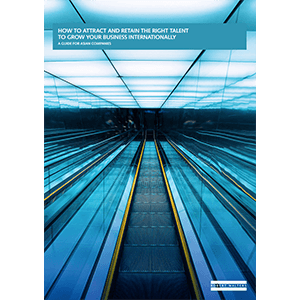 Key findings:
70% of Asian companies in our survey stated they plan to internationalise their businesses in the coming three years.
57% of Asian firms stated the recruitment of international talent is somewhat to very important to help them expand internationally.
44% of Asian companies expect the volumes of headcount with international talent to increase in the next 12 months.
62% of international talent rank local corporate culture as the top reason why they enjoy working in Asian firms.