Redefining the Future Business Leader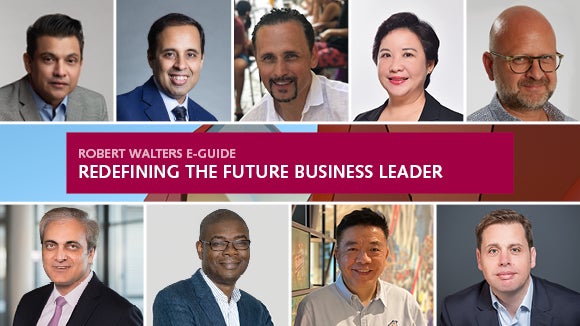 The impact and scale of the COVID-19 pandemic was both unexpected and unprecedented. Around the globe, we witnessed leaders having to rapidly change their approach to the way they work, manage, and lead their teams to adapt to ever-changing situations.
While many of these changes, such as organisation-wide work from home arrangements, may be a temporary measure to ride out the worst of the pandemic, the global COVID-19 crisis has undoubtedly reshaped the long-term expectations employees have of their leaders.
As we move to a new future of work, leaders need to account for these new workplace expectations, and adapt to remain relevant and effective in managing their myriad of stakeholders – be they customers, suppliers, employees, board members, or wider communities.

In this e-guide, we explore how the COVID-19 pandemic has impacted companies and reconfigured stakeholders' expectations of their leaders. We interviewed 9 business leaders from diverse industries across the world, to hear their experience and valuable lessons learnt while steering their companies through the pandemic and the resulting 'new normal'.

Download the e-guide to read about how leaders are:
Making swift yet effective decisions in an ever-evolving world
Engaging, building relationships and trust amidst uncertainties
Managing employee well-being during and beyond the pandemic
Embracing change and innovation
Featured leaders

Chris Freeland, Executive Chairman, UK, RAPP Worldwide
Dharmesh Arora, CEO, APAC, Schaeffler
Gareth Pearson, SVP Chief People Officer, UK & Ireland, McDonald's
John Ashley, Chief Financial Officer, East and Southern Africa Region, Nestlé
Kenneth Choo, Managing Director, Asia Pacific, HEINEKEN
Kevin Fernando, President, Growth Initiatives Asia, Stanley Black & Decker
Parag Arora , Area Vice President Networking, Asia Pacific & Japan, Citrix
Tasso Roumeliotis, Founder & CEO, NumberAI
Tsu Shien Teoh, President, Henkel Malaysia
Watch the webinar

Robert Walters has also put together a webinar on 'Redefining the Future Business Leader'. Watch the webinar here or explore our other webinars.